Hootie/Moon Litter 2019
We are considering a repeat breeding of these dogs in about 9 months after an evaluation of the current offspring. Be in touch if you are interested in getting on that wait list.
For more information contact Tenley at ten11ey@yahoo.com or 270-378-5910.
| | |
| --- | --- |
| | |
| Rider | Pink |
| | |
| --- | --- |
| | |
| Copper | Newt |
Hootie comes from a long line of superior working bitches (check her pedigree to see many ASCA FInals and ASCA Nationals winners in her background). She was the High Combined Started Dog at the 2017 ASCA Nationals , the 2017 ASCA Nationals Pre-Trial and was also the High In Trial Sheep Dog at the 2018 USASA Nationals from both the Started and Intermediate divisions. She is a quiet worker with incredible balance and intuition to know exactly how much pressure is needed to get the job done. She hits both heads and heels on her cattle but is extremely gentle with sheep and lambs. She is very biddable worker.
Moon is owned by Denny Ashcraft, living on their cattle farm in Kansas. Besides working on the Ashcraft farm, Moon accomplished the honor of being the only Australian Shepherd to qualify for the United States Border Collie Handler's Association Cattle Nursery Finals and the National Cattledog Association Nursery Finals in 2017 and is currently running at the Open level at USBCHA time and points cattle trials. Moon has unwavering confidence on his cattle, a hard bite and quiet approach. Anyone who happened to be at the 2017 ASCA Nationals may have seen Moon settling and breaking the cattle as they arrived at the Nationals facility and working the pens during runs.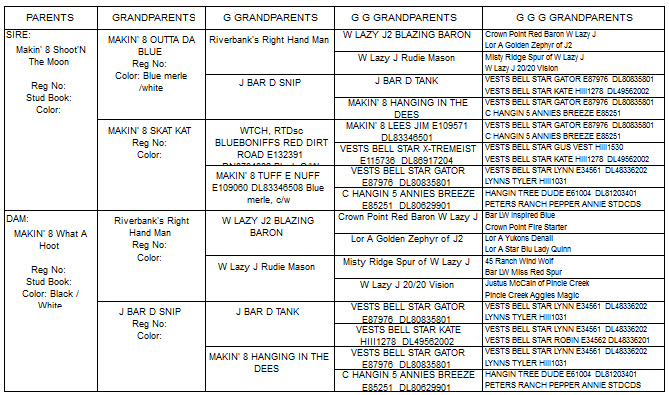 For more information contact Tenley at ten11ey@yahoo.com or 270-378-5910.